ChitoFib Patch NANO Bandages (Plasters) and Wound Covers
ChitoFib is a revolutionary range of medical devices drawing upon our own patented technology of manufacturing nano-fibre layers based on natural chitosan. As the first in the world, Nano Medical introduced the industrial manufacture of nano-fibre structures based on chitosan for application in medical devices (adhesive bandages, wound covers), which protect wounds from contamination, and promote and accelerate healing.
We are currently finalizing the preparation of series production of two groups with chitosan. Their introduction onto the market in the Czech and Slovak Republics is planned during second half of 2023: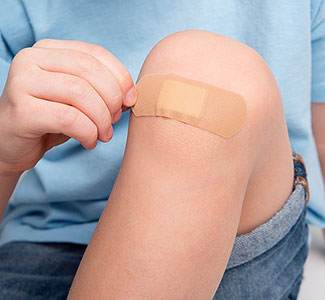 ChitoFib Patch –finished medical plasters or wound covers, with a functional nano-fibre layer.
ChitoFib Patch NW –non-woven textile, individual nano-fibre layer from fibres with chitosan, intended for the manufacture of medical devices. Or, already applied to a bearing textile, usually absorption non-woven textile, intended for the manufacture of medical plasters.
Bioactive chitosan for accelerating healing– the nano-structure combined with biopolymers supports cell proliferation and creates a natural structure for areal wound healing.
Principle of damp healing–creates gel in contact with liquids; i.e., the creation of a humid environment, which enables new epidermal cells to migrate more easily on the wound surface. A benefit for the patient is the faster healing of the wound, a longer interval between replacing bandages, prevention of scabs, restriction of pain.
Perfect protection of wounds– this extremely fine nano-fibre structure works as a protection filter against potential microbial contamination of the wound from the exterior environment.
The natural anti-microbial effect of chitosan also helps prevent possible microbial infection from the environment.
Biodegradable– chitosan degrades naturally due to the impact of body fluids.
Suitable for all types of wounds – surgical, traumatic, chronical, burns, diabetes feet, bedsores
Finished medical plaster – a view through an electron microscope (in section):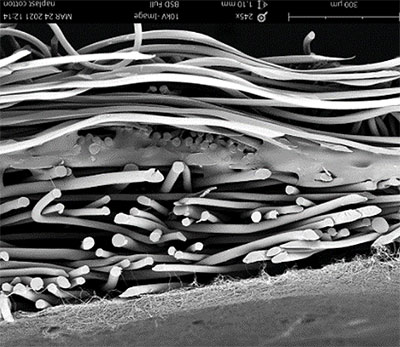 Upper material – resistant covering fabric certified for medicinal use.
Central part – absorption fleece with absorption >800 %
Touch part – functional bioactive nano-fibre layer ChitoFib Patch.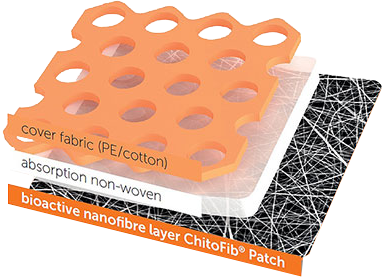 Visualization – Standard Wound Healing:
Ordinary wound healing, in epithelialization stage. From the wound edges, new skin cells are spreading and gradually cover the wound surface. A typical complication of this phase is the drying of the wound, which slows down the healing, contributes to the creation of scabs and painfulness of the injury, and adversely affects the scarring.
Visualization – Healing Course with Support of ChitoFib Patch
The epithelialization phase of healing is markedly supported by the humid environment of the wound and nano-fibre structure ChitoFib. This structure promotes cell proliferation, enables easier migration of epidermal cells on the nano-structured surface, supports the growth of fibroblasts and thus helps faster and more efficient wound healing.
Animation – Advanced Wound Healing
Distribution and Custom-made Manufacture of ChitoFib Patch Products
ChitoFib Patch medical plasters are certified as a class I medical device, final product intended for retail or wholesale.
As part of the wholesale custom-made manufacture, we also offer a wide portfolio of shapes, dimensions and designs, for own account or as contractual cooperation with external suppliers with certification ISO 13485.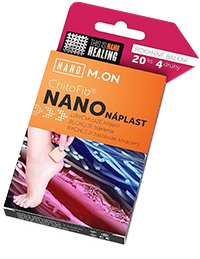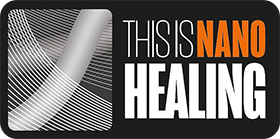 Medical products in the category of Wound Covers are currently undergoing a clinical study whose termination is estimated to be during of 2024. Even here we plan both production under our own trademark and custom-made production of finished wound covers or source material for further processing at the customer's place.