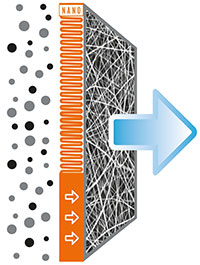 In the field of filtration and separation we offer a wide range of finished materials. Due to their unique properties, nano-fibre media are particularly ideal for the filtration of undesirable particles from the atmosphere. They are a great solution in the field of air and liquid filtration, they are a part of domestic as well as industrial air-conditioning units, cabin filters as well as in a whole range of applications in the automotive industry and in systems for very fine filtration up to HEPA and ULPA levels.
Clean spaces (HEPA, ULPA)
Medical masks& FFP2
HVAC
Exhaust gases
Dust collectors
Mobile appliances
Preparation of drinkable water
Filtration of fuels and oil
Wastewater filtration
We have long-term experience with the development and manufacture of filtration materials for applications in air and liquid filtration, especially in higher classes of efficiency (e.g.F7, F8, F9, E10, E11, E12, H13, H14).
The main benefits of nano-filters are:
very good breathability
high filtration efficiency
long service life of the filter
low consumption of energy during the operation of the filtration set compared to classical filters
Apart from the existing portfolio, we also offer tailored manufacture of filtration media and other nano-textiles, based on specific requirements of customers. We are also open to joint development of new materials for specific industrial applications.
Nanospider Surface Filtration
Technology enabling the manufacture of very homogenous nano-fibre membranes. We use this technology for the production of such materials as ChitoFib, as used in medical devices. The homogeneity of the produced membrane enables the use of this technology for the production of orodispersible pills / films (ODT / F) in the form of a flat film containing an active pharmaceutical component (API).
The Nanospider TM technology is also suitable for the production of nano-fibre membranes permeable for vapours for clothes, microfiltration and other applications. The compactness and porosity of the nano-fibre membrane are suitable for the application of surface filtration. The use of the membrane considerably increases filtration efficiency and prolongs the service life of the filter (number of regeneration cycles).
Due to its capacity to quickly create nano-fibres, this patented, highly efficient technology for the manufacture of nano-fibre structures markedly decreases the costs for the manufacture of nano-fibres. It makes it possible to use nano-fibres in the areas where they could not have previously been used due to high production costs. This technology produces nano-fibres in an open "fluffy" structure. This structure supports the principle of deep filtration and provides the materials with the ability to hold dust with a high filtration efficiency and excellent breathability.
Lamination and Formatting
Nano-fibres are a very fine structure, which must be protected from physical damage by lamination. For many applications it is, therefore, suitable to physically protect nano-fibre structures from damage (handling, folding, etc.) by lamination with a protective covering layer. We have our own lamination technology, suitable for the manufacture of technical multi-layer materials, materials for medical devices and materials for ODT. We use various types of glues which we apply with heat and pressure. As substrates or carriers of nano-fibre layers we most often use PP spunbonds or PET non-woven textiles. We always resolve the combination of materials according to a customer's specific requirements and always with regard to the final application of the final laminate.
Our Production Technology
Two manufacturing units Nano Spider
Output width of the material of up to 1600mm
Most often we make fibres from polymeres PA6 a PVDF, furthermore PUR, PLA, PAN
The carrying fleece is usually PP spunbond, meltblown or silicone paper
Possibility of individual formatting of the width of the output role
Laminating technology
Production capacity of 200.000-300.000 m2/month
100% exit inspection of each meter of manufactured material, thanks to continuous measuring Tex Test
Fully equipped developing and inspection laboratory, including Palas Mfp 3000G, calibrated to the new filtration standard ISO168902