Single-use premium nano-fibre MEDICAL MASK with certified efficiency >99%
Almost absolute protection against viruses, bacteria and dust particles. Certified efficiency of 99.9% verified by the Nelson Laboratory USA.
Easy breathing thanks to the high permeability of the material with nano-fibre filter (200 l/m²/s), while maintaining maximum efficiency.
The mask may be worn for up to 12 hours. The nano filter, unlike ordinary medical masks, does not lose efficiency even through gradual moisturizing (with exhaled water vapours).
NANO MED CLEAN masks and filters for the masks are manufactured in the Czech Republic or in Slovakia. All the materials used were produced in the EU.
The nanofibre filtration layer presents a physical barrier against the penetration of viruses, bacteria and minor solid particles. Its filtration function is more stable and long lasting as opposed to ordinary medical masks. The filtration of standard masks works on the principle of an electrostatic charge, which "attracts" impurities and prevents their penetration through the mask. Through the gradual moistening and exhaling of water vapours, the efficiency of an ordinary mask gradually decreases (loss of the electrostatic charge). However, our masks and filters with a nanofibre layer ensure up to 12-hour protection without losing their functionality.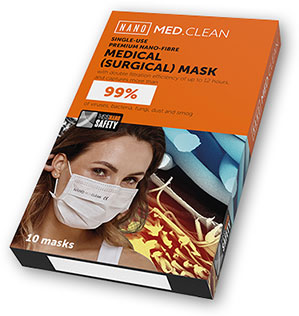 Category III. EN 149:2001+A1:2009 class FFP2 NR
Certified 30. 3. 2021 by GEPTESZT KFT, HUNGARY, notified body Id. Nr. 2233, certificate is valid untill 30th March 2026.
Disposable mask NANO MED.CLEAN with nano-fibre filter

A disposable protective mask, with a bendable nose piece nose and elastic ear bands.
Double filtration efficiency of up to 12 hours, and capture more than 99% of viruses, bacteria, fungi, dust and smog.
Usage: In all places where people may come into contact with each other within 2 metres, especially in closed spaces or in areas with an increased number of persons, and in areas with a higher risk of transmission of infectious agents, particularly to persons with decreased immunity or to persons close to a face mask user.
The NANO MED.CLEAN medical mask is made of a three-layer filtration medium composed of a supporting textile layer, a nano-fibre filter and a textile protective layer.
Certified as a class I medical device, CE marked, conforms to standards EN 14683, type IIR.
High filtration efficiency of 99.9% capture of viruses, bacteria as well as dust particles verified by Nelson Laboratory tests VFE, BFE, PFE.
Easy breathing due to high permeability (200 l/m²/s), while maintaining effectiveness.
The mask can be worn up to 12 hours.
Harmless according to the measurement of the National Institute of Public Health in Prague.
Made of soft non-irritating material.
Does not contain latex, glass fibres or other allergic substances.
All materials used in the product are made in the EU.
Tests of our materials for masks and filters, carried out in the Nelson Laboratory (U.S.A.). 99.9 % filtration efficiency confirmed:
VFE test – Viral Filtration Efficiency – This tests the extent of material resistance against the penetration of viruses;

BFE test – Bacterial Filtration Efficiency – a test similar to VFE on the basis that it is an extent of material resistance against the penetration of bacteria, which are generally one level larger than viruses;

PFE test– Particle Filtration Efficiency – evaluates the efficiency of the filtration of solid particles of filtration (smog, dust).