This year we are launching on the market a revolutionary range of dry cosmetic masks, based on our own patented technology of the production of nano-fibre layers on the basis of natural chitosan. NANO MEDICAL introduces, as the first in the world, the industrial production of nano-fibre structures on the basis of chitosan for application in cosmetic and medical devices (regeneration masks and plasters).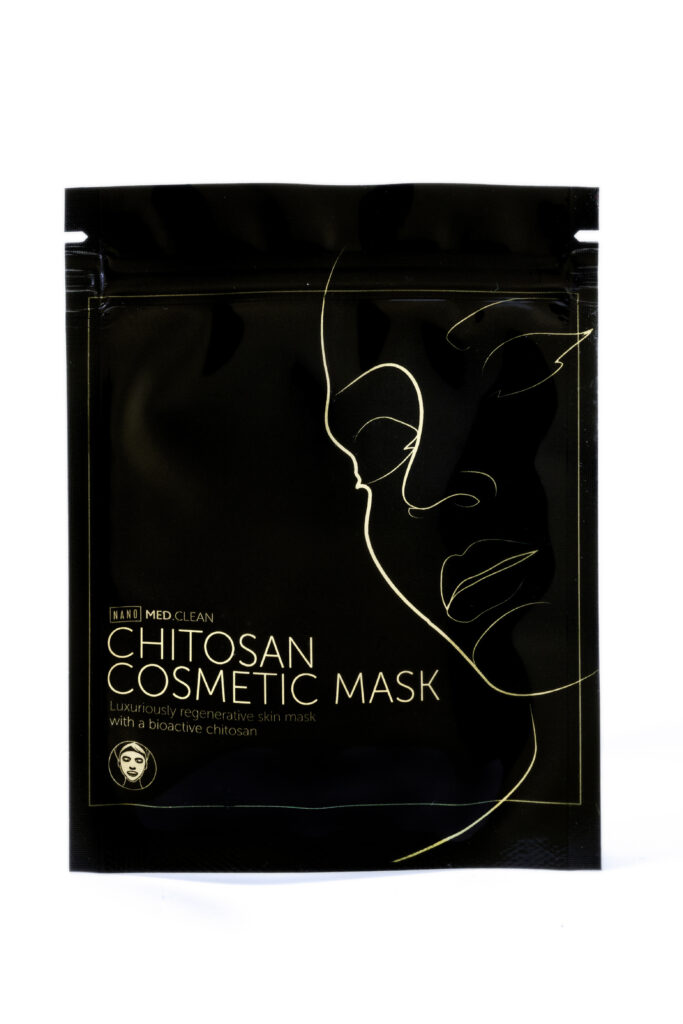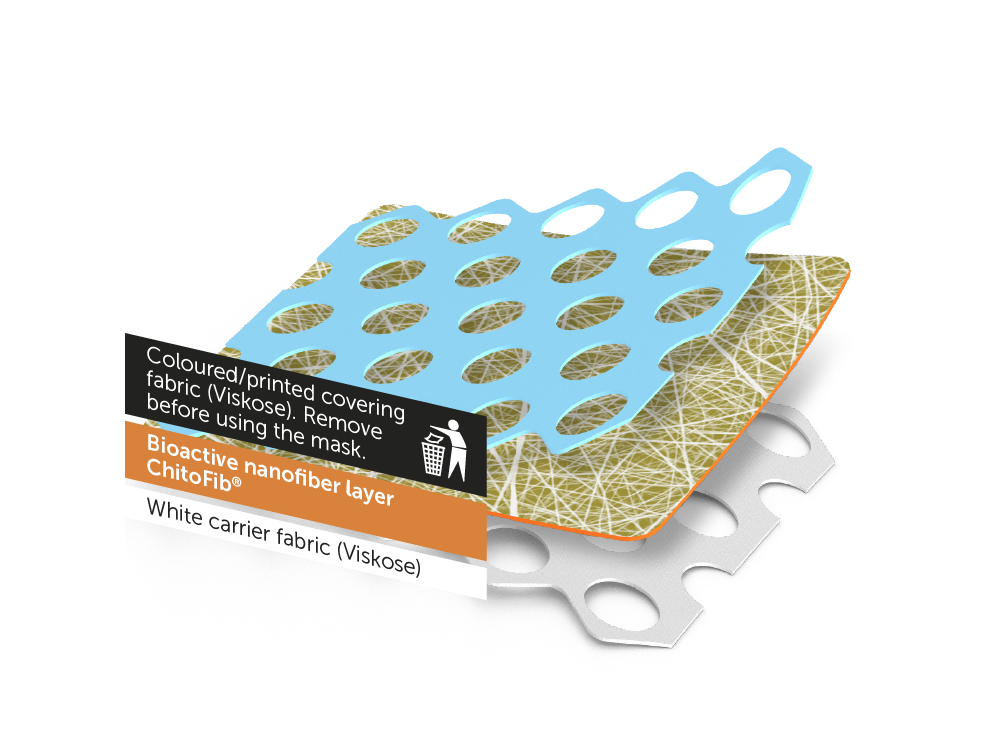 Bioactive chitosan promotes deep regeneration of the skin. The nano-structure perfectly adheres to damp skin, enables quick absorption of chitosan and supports skin regeneration after irritation (peeling, stress, polluted atmosphere). Chitosan soothes irritated skin and has an anti-inflammatory effect.
Safe and natural product:
DOES NOT CONTAIN alcohol, synthetic additives, silicone, parabens, colourants or chemical stabilizers.
Active substance: plant chitosan of 100% natural origin
Support material (viscose) is 100% compostable.
The mask is suitable for all types of skin.
Key Properties and Benefits of CHITOSAN COSMETIC MASK
deep regeneration
soothes irritated skin
anti-inflammatory effect
brightens and smooths the skin
anti-aging effect
antioxidant effects
biodegradable
biocompatible
patented technology
100% natural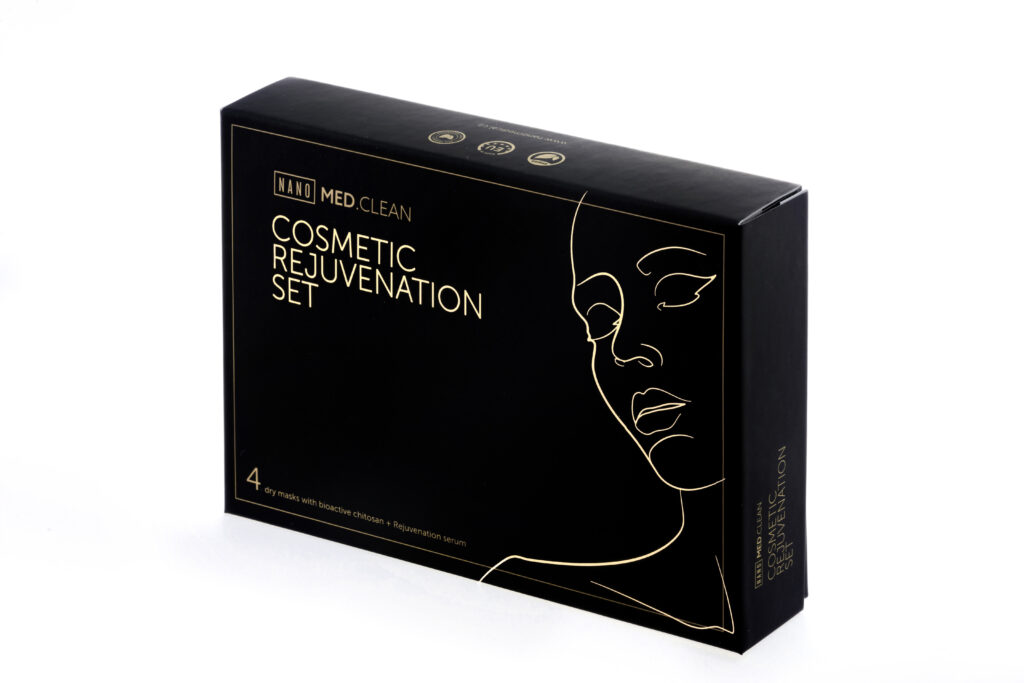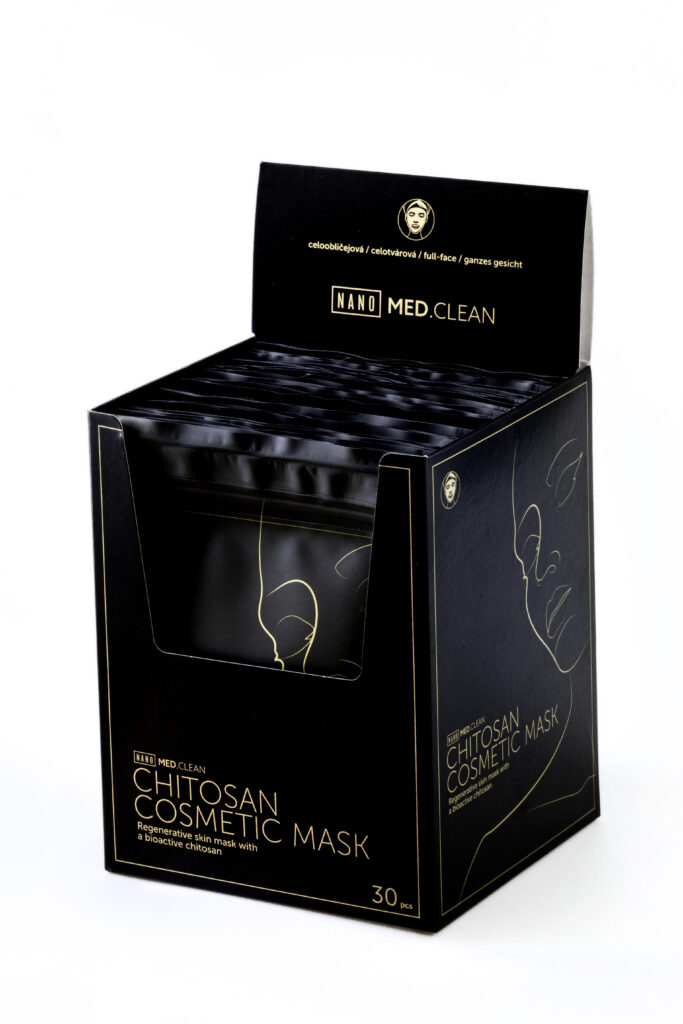 We are introducing CHITOSAN COSMETIC MASK on the market under our own trademark NANO MED.CLEAN and we offer our partners tailored manufacturing under a private label. Our patented technology enables the addition into the nano-fibre layer a whole range of other efficient substances for premium skin care. If you are interested, please contact contact us, we will be glad to work together with you in joint development.
We also provide custom-made individual nano-fibre layer of fibres with chitosan, intended to be transferred onto another carrying material; i.e., applied to PP spunbond or silicone paper. This semi-finished product is intended for further processing, usually lamination, into any suitable material according to the customer's needs, depending on their further specific technological procedure.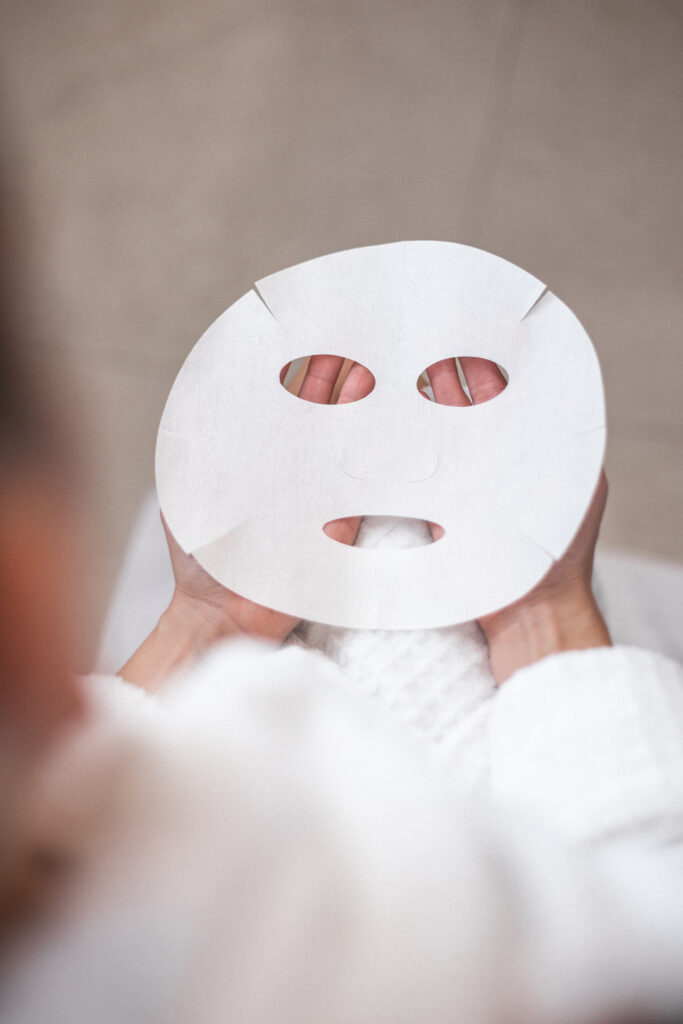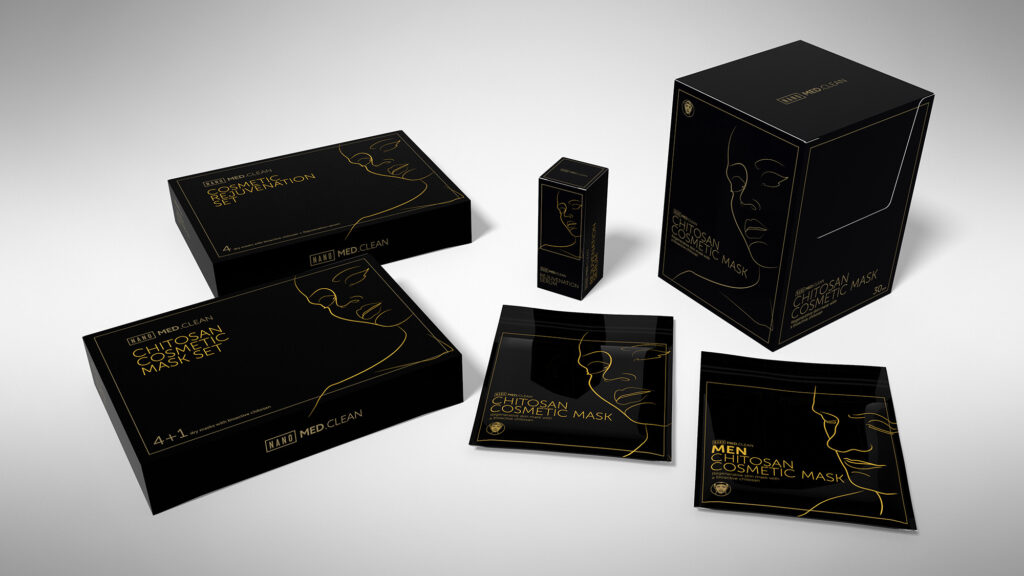 Scientific Studies on the Effectiveness of Chitosan in cosmetic products
…chitosan-montmorillonite nano-composites also showed appropriate effects against skin aging. Not only thanks to their moisturising effect, but also thanks to their good UV protection capacity…
…thanks to chitosan antibiotic resistance activity against Propionibacterium acnes and Staphylococcus aureus, chitosan was evaluated as a possible antimicrobial molecule against acne vulgaris…
…cosmetic masks were inspected from the point of safety and efficiency both in vitro on keratinocyte and fibroblast cultures, and in vivo on 30 volunteers.
…The results showed that cosmetic masks were not only efficient against aging and in care for sensitive skin, but also very safe and stable for a long time, because they were without water…
 Chitosan hybrids for cosmeceutical applications in skin
https://www.researchgate.net/publication/354222809_Chitosan_hybrids_for_cosmeceutical_applications_in_skin_hair_and_dental_care_an_update
August 2021, Emergent Materials 
……Apart from biomedicinal applications, chitosan proved a potential in the area of cosmetics thanks to its antimicrobial properties and excellent biocompatibility…
Green Nanotechnology Serving the Bioeconomy: Natural Beauty Masks to Save the Environment
https://www.mdpi.com/2079-9284/3/4/41
Special Issue Nanotechnologies in Cosmetics 2016, Pierfrancesco Morganti
…Cosmetic masks with chitosan are considered an efficient mean for completing ordinary skin treatments and are an excellent alternative to an expensive professional Beauty Centre. They provide, in fact, a professional, intimate skin care, which the consumers may have at home…
…Interesting results acquired one month later suggest that using the mask at least oncea week and not only once in a month has a significant effect from the point of view of strengthening ordinary cosmetic treatments,…
….
Antioxidant effects of chitin, chitosan, and their derivatives
https://pubmed.ncbi.nlm.nih.gov/25300540/
Advances in food and nutrition research, 2014; 73:15-31, Dai-Hung Ngo, Se-Kwon Kim 
…Chitin, chitosan and their derivatives are considered to be substances with a wide range of efficiency, including antioxidant, antihypertension, anti-inflammatory, anticoagulative, antitumor and anticancer, antimicrobial, hypocholesterolemic and antidiabetic effects…
Nano-sizing Chitosan for Wound Healing
https://www.cosmeticsandtoiletries.com/research/literature-data/blog/21837480/nano-sizing-chitosan-for-wound-healing-anti-aging
Mar 25th, 2013, Katie Anderson, Cosmetics & Toiletries
……chitosan is affordable, biodegradable and approved by the American Food and Drug Administration.…
Cosmetic masks with nano-fibre layer based on chitosan are an exclusive product, unique of its kind. The manufacture draws upon our own patented technology and results in a premium natural product in the area of skin care.                            
Try out this unique connection of the latest technology and natural regeneration substances.